This article was originally posted to the Chatham Courier web site on Wednesday, April 13, 2016 10:49 am
What's new for 15th annual Sean's Run?
By Karrie Allen Columbia-Greene Media
CHATHAM — In its 15th year, you would think the organizers of Sean's Run would have run out of things to add or improve upon, but not yet.
Sean's Run has become more than just a run. Organizers have worked hard for 15 years to make sure everyone, not just the runners/walkers, are occupied and enjoying the day.
Artists for Sean's Run
This year, organizers are including a visual arts element coordinated by Melissa Sarris and Beth Thielen.
They will provide commemorative block-printed muslin squares celebrating the 15th year, which anyone can sign or color in with fabric makers, Sarris said. Artwork is being designed by artists Thielen, Chatham Mayor Tom Curran and Kelly Bruneau.
There will also be life-sized plywood cutouts designed by Bruneau and Loren Weinheimer; possibly an additional artist, she said. "We … hope folks are excited by this addition of getting artists involved in this important community event," Sarris said.
"We hope to expand the number of artists involved next year with an open call to artists in the region." Brazilian beats In coordination with the upcoming summer Olympics in Rio de Janeiro, Berkshire Bateria will perform Brazilian beats live before the start of the 5K "to get your heart rate up to race speed," French said. "Their Brazilian-style drumming of Afro/Brazilian rhythms is exciting and infectious, with sections of different percussion instruments 'weaving' the whole tapestry of sound that is simply an irresistible part of Brazilian culture," he continued.
The group will also be at the finish line.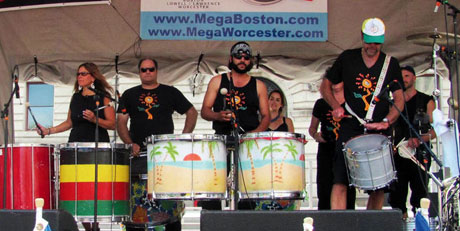 Berkshire Bateria will drum up Brazilian beats at the 15th annual Sean's Run April 24.
Food at the finish
The food court has always had a generous spread of food donated by Price Chopper, as well as Stewart's ice cream, Chobani yogurt, water donated by Winding Brook Country Club and chocolate milk from Byrne Dairy (distributed by the Columbia County dairy ambassadors), as well as homemade cookies and bagels from local bakeries.
"Food has always been a hit at Sean's Run. Participants rave about the bread …," French said.
"Local restaurants and caterers are jumping in to make this year's nutritious spread of post race refreshments more spectacular than ever," he said.
A number of restaurants and caterers will be showing off some of their favorite finger foods, French said of this new undertaking by the Sean's Run Organizing Committee.
Congressional resolution
Today, a little over a week out from Sean's Run, a significant milestone is taking place.
U.S. Rep. Chris Gibson will read a resolution on the floor of the U.S. House of Representatives in Washington, D.C., in which he will honor Sean's Run and the organizing committee's 14 years of work combating underage drinking, impaired driving and lax use of seat belts by teens, French said.
Several from the committee will be there "when the resolution is introduced into the Congressional record — forever a part of U.S. history," he added, noting that Gibson is a perennial participant in Sean's Run.