First Niagara Bank and Sean's Run announce Grants
October 26, 2015 - First Niagara Bank and the organizers of Sean's Run have announced the availability of cash grants for youth organizations and schools from around the region to implement the fun and fast paced Battle of the Belts, a youth activity designed to increase teens' use of seatbelts. The grants are made possible through First Niagara Bank's sponsorship of Sean's Run. According to the National Highway Traffic Safety Administration, car crashes are the number one cause of death for teens; nearly 2/3 of those who perish were not using safety belts.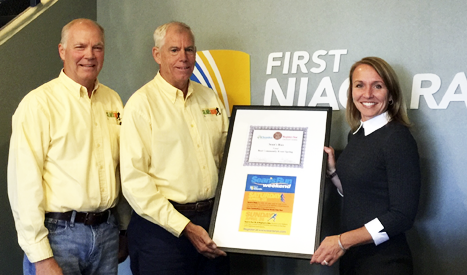 Sean's Run Weekend was voted Best Community Event-Spring 2015 in Columbia County in a contest hosted by the Columbia Chamber of Commerce, the Register Star and Chatham Courier newspapers.
Kelli Arnold, Senior Vice President, Eastern NY Market Executive, First Niagara Bank, stated "First Niagara commends Sean's Run for their work and dedication to helping our children in our communities. We are pleased to take part in this important initiative." Jeff French, Chairman of Sean's Run, said "Thanks to First Niagara we are able to again offer this opportunity and innovative approach to reduce the number of teens who fail to use their seatbelts."
School groups and youth organizations such as Scouts, 4-H, church groups and sports teams, may apply for up to $650 each to implement a Battle of the Belts seatbelt buckling contest and send teams to participate in the World Championship Battle of the Belts at the 15th Annual Sean's Run Weekend, April 23 and 24, 2016 at Chatham High School.
Instructions for youth groups and schools to submit a one-page application are available at www.SeansRun.com. Applications are due by December 1, 2015.
First Niagara is the Presenting Sponsor of Sean's Run Weekend, an annual event that focuses on the problems of underage drinking, impaired driving and teens' lax use of seat belts. In addition to the bank's financial support, each year bank employees volunteer help to produce the weekend of activities, which includes one of the largest community run/walk events in the entire region. In the past bank employees have also designated Sean's Run as a "Top 12 Charity" donating the proceeds from an employee monthly "Jeans Friday" fund-raiser.
The weekend's Saturday activities in 2015 will include the Super Saturday Run for Special Needs Kids, a Zumbathon® and Sean's Ride, featuring 10, 20 and 50-mile noncompetitive bicycle rides.
Sunday's activities include the 5K and Meghan's Mile, which is anticipated to attract 1,400 registrants in the two run/walk events next spring. Sunday activities also include the World Championship Battle of the Belts, a tribute to victims and survivors of drunk driving and a Prevention Education Expo.
$195,506 has been contributed as grants and scholarships by Sean's Run over the past 14 years thanks to generous sponsors and contributors. Over 100 youth programs that encourage safe driving have received grants from Sean's Run and 92 college bound high school seniors have been awarded scholarships since the first event in 2002.
The Battle of the Belts seatbelt buckling contest involves teams of four teens who run to a 4-door car and quickly get into their seats. They all buckle up, raise their hands in the air and a Referee shouts "Rotate!" They unbuckle, get out, run clockwise to the next seat, get in, and buckle up again. The team with the fastest time, after the 4th buckle, is declared the winner. There are awards for the fastest teams, for teams with the loudest cheering sections, best t-shirts and best team names.
Sean's Run was founded in 2002 following the tragic death of Sean Patrick French, a 17-year old Chatham High School junior, honor roll student, community volunteer and record-setting athlete who was killed on January 1, 2002, as a passenger on a drunk-driving car crash. He and another passenger who was paralyzed in the wreck were not using seatbelts. This tragedy prompted the enactment of Sean's Law on January 1, 2003 that requires the suspension of a license upon the first arrest of a 16 or 17 year old on drunken driving charges.