Sean's Run Weekend 2015 Sponsors Announced

January 30, 2015 - First Niagara Bank will again serve as the Presenting Sponsor of Sean's Run Weekend. The 14th edition of the annual event on Saturday and Sunday, April 25 and 26, is expected to attract over 1,700 participants and hundreds of spectators from across the region to Chatham.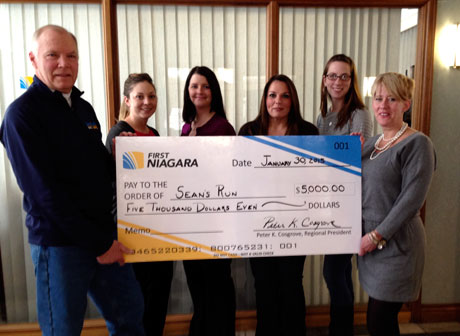 First Niagara Bank Hudson Branch Manager, Mary Gerlach, presents Mark French, Secretary of the Sean's Run Organizing Committee, with a $5,000 sponsorship check. First Niagara Bank is the Presenting Sponsor of Sean's Run Weekend. Looking on are First Niagara Bank employees from the Greenport and Hudson bank branches.
First Niagara Bank is joined by a group of 51 other businesses and individuals that are sponsoring Sean's Run Weekend, one of the largest multi-sports events in the region, with the number of participants quadrupling since its beginning in 2002.
Sean's Run Weekend has become the region's springtime reminder about the pervasive problems of underage drinking, impaired driving and lax use of seatbelts by teenagers. It is scheduled always on the last weekend of April, in the middle of high school prom season.
First Niagara Bank's sponsorship is used by the Sean's Run Organizing Committee to help underwrite the costs of grants that First Niagara and Sean's Run present to schools and youth serving groups across the region to implement programs that combat underage drinking, impaired driving and lax use of seatbelts by teenagers. The event's namesake, Sean Patrick French, was killed as a passenger in a car driven by an intoxicated schoolmate that crashed a few minutes into 2002. Another passenger suffered paralyzing injuries; both he and Sean we not using seatbelts at the time of the crash.
Kelli Arnold, Senior Vice President and Market Executive at First Niagara Bank is thrilled that her organization is providing both financial and volunteer support to Sean's Run, "First Niagara is proud to continue our partnership with Sean's Run Weekend. It is an amazing event that is both fun and life changing, it teaches young people the dangerous and pervasive problems of underage drinking, impaired driving and lax use of seatbelts by teenagers. We are so thankful to this organization and all that it does for our community."
The balance of the event's proceeds realized through the generosity of sponsors, contributors and participants support the Sean's Run scholarship fund. 92 deserving seniors from across the region, selected because of their community service and positive sportsmanship, have benefitted since 2002.
In its 14-year history, Sean's Run has awarded $195,506 in grants and scholarships, thanks to the generosity of sponsors and participants.
The line-up of other sponsors include: The Register Star and Chatham Courier have again been designated as the 2015 Sean's Run Weekend Media Sponsor.
Gabel Real Estate of Spencertown has signed on to be the named sponsor of the 5K, which continues as the flagship activity for the weekend. Other Sunday activities include Meghan's Mile youth race sponsored by DST of Albany, and the World Championship Battle of the Belts sponsored by Rensselaer Honda of Troy. This interscholastic competition is designed to encourage increased use of seatbelts by teenagers.
Dells' Plumbing, Heating and A/C Service of Ghent is the named sponsor of the Saturday Zumbathon®. TrainerFit of Chatham is the named sponsor for the Super Saturday Run for Special Needs Kids Race for children with developmental disabilities.
The Lofgren Agency continues as presenting sponsor of Sean's Rides, the 50-, 20-mile and 10-mile supported bicycle rides for participants of all abilities. The Old Chatham Country Store & Café, of Old Chatham is the named sponsor of the 10-mile ride and Hudson Design Group, Inc, North Andover, MA is back as the 50-mile named sponsor, and New Leaf Tree Services, Inc. of Chatham continues as named sponsor of the 20-mile ride.
New sponsors of the weekend include Gold Medal Sponsor Blue Sea Products, LLC of Perth Amboy, NJ, Silver Medal Sponsor Sei Bella Salon of Chatham, Bike Rides Sponsor Bennett Contacting of Albany and Blue Ribbon Sponsor Johnny's Ideal Printing of Hudson.
Other Bike Ride sponsors include Federation of Polish Sportsmen of Greenport, Robert Pinkowski and Kimberly Chrysler of Hudson; Dr. Bill Primomo, DDS of Albany; Our Daily Bread of Chatham; Primo Mobile DJs of Amsterdam; Steiner's Sports in Glenmont, Hudson, and Valatie;.

Northeast Pest Control of Troy is underwriting the cost of special gifts given to the first 350 participants who pick up packets on Saturday, April 25th.

The Hudson River Bank & Trust Company Foundation is back as a Gold Medal Sponsor. Also, Metzwood Insurance, Chatham, Hawthorne Valley Association, Ghent, FairPoint Communications of Portland, ME, ZF America sea food suppliers from Lakeville, MA; Michael C. Howard, Esq. of Hudson.
Gold Medal Sponsors also include Columbia Memorial Health in Hudson; Trowbridge Farms of Ghent; and Price Chopper Supermarkets with headquarters in Schenectady, Hover & Mackowski, PLLC of Hudson and Clifton Park, The Hahn Family of Chatham and Screen Designs, Inc., Colonie.

Silver Medal Sponsors returning include Brown's Emporium, Chatham Flowers, Firehouse Productions, Marisa's Bagel Café, Mark and Cathy French. Also, Park Row Gallery, Sonoco Plastics, Taconic Driving School, Valley Energy. Winding Brook Country Club provides the water for the rest stops on the 5K and Mile courses.

Blue Ribbon Sponsors are Cantele Tent Rental, County Outhouses, Eileen and Lee French, French Cut Lawn Service, Jim and Elaine Gilmer, Long Energy, Pam and Jeff Lappies, Prospera Financial Services, and Rich and Sally Kraham.

More information about the event, the sponsors, and the Sean's Run grants and scholarship programs is available at www.SeansRun.com.