Final Report from Sean's Run 2014
5/1/14
A weekend of wet weather couldn't dampen our spirits.
The exuberant spirit of the event prevailed on April's damp and chilly final weekend as 1,430 enthusiastic registrants raised the 13th annual event to new heights and signed up to take part in the 5K Run, Meghan's Mile, the 50- and 20-Mile Bike Rides, as well as the Zumbathon® and the Super Saturday Run for Special Needs Kids.
The weekend's flagship events, the 5K and Meghan's Mile, had 1,250 sign-ups and had 20 finishers in under 20 minutes. Brina Seguine (20:10) became the first woman to win the 5K three times and the male champ, Tim Caramore from Missoula, MT, (15:55) made a return after running here 12 years ago. Three age-group records were set: 50-59 Men—Mark Stephenson, Esperance (18:28); 70-79 Women—Jayne Zinke, Valatie (27:53); and 80+ Men—Richard Eckhardt, Albany (40:59). Casey Sitzer, Ghent, and Katie Everett, Old Chatham, won Meghan's Mile.
Event participants came out in large numbers
1,479 enthusiastic registrants raised the 13th annual event to new heights.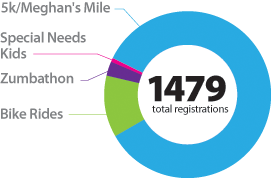 Saturday saw 135 hardy cyclists pedal the 50- or 20-mile rides while taking in the scenic views of the historic Hudson against the magnificent background of the Catskills. Full-service rest stops on the course followed by a sumptuous post-ride spread and upscale souvenir jerseys made for a fabulous event! Also that morning 45 Zumbathoners worked out during a 2-hour nonstop dance party inside the Chatham Elementary School gym to the rhythm of Latin music. Next up was the Super Saturday Run for Special Needs Kids and those who participated had such a blast that they ran the course twice to support a young participant who was late for the first heat!
Rounding out the Saturday activity, National Champion bicycle stunt rider Mike Steidly wowed the crowd with his jaw-dropping two-wheeled acrobatics.
Sunday led with the World Championship Battle of the Belts and the Prevention Education Expo—events designed to encourage teens to make positive choices. The unique and exciting seatbelt competition drew 24 teams from schools around the region. And for a second straight year, the belt-buckling champs of Mohonasen High (Schenectady County) retained their title.
Donations raised for our communities.
For twelve years, the Organizing Committee has given the money raised at Sean's Run to support two specific areas of interest: Scholarships for deserving high school seniors, and grants to schools and youth groups.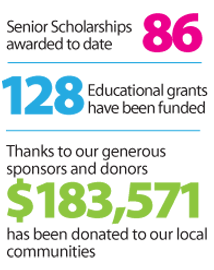 The money raised by the event, thanks to the generosity of 55 event sponsors and many contributors, was awarded as grants presented to 14 school and youth groups to implement programs aimed at combatting underage drinking while fostering seatbelt use by teens. Also six outstanding high school seniors were awarded Sean's Run scholarships in recognition of their sportsmanship, community service and love of running. To-date we have given away over $183,000.
Sunday concluded with an outstanding spread of refreshments featuring fruits, bagels, cookies, baked goods, chocolate milk, ice cream, Propel® sports drink and sandwiches.
As the weekend festivities wound down, everyone who was present knew that they had been part of something very special – a well-organized homegrown event produced by more than 100 volunteers and generously supported by sponsors and contributors.
Many participants used social media to proclaim their praise of the Organizing Committee for the exceptionally well-produced and fun event. The mission of Sean's Run, first produced in 2002 following the New Year's Day death of 17-year-old Sean Patrick French as a passenger in an underage drunk driving car crash, has always been to encourage safe driving by teens. The annual event is strategically scheduled at the beginning of the high school prom season. The committee dedicated their 2014 efforts to Kari Leidel, age 14, of Ballston Spa, NY, who was killed by a drunk driver as she stood in a yard a few doors from her home.