First Niagara Awards Sean's Run Grants for 2014
March 31, 2014 – Chatham - First Niagara Bank and the organizers of Sean's Run have selected 14 groups, including schools, youth groups and regional organizations, to receive grants to implement programs designed to combat underage drinking, impaired driving and lax use of seatbelts by teenagers. The schools and youth groups will use their $500 grants to implement the Battle of the Belts, a fun and fast moving activity designed by the Sean's Run Organizing Committee to increase teens' use of seatbelts.
First Niagara Bank is the Presenting Sponsor of Sean's Run weekend, an annual community run/walk to be held at Chatham High School on the last weekend in April. The event's organizing committee is preparing for over 1,600 participants in the various activities planned for the weekend which include 20 and 50-mile bikes rides, a Zumbathon® and a group run for kids with special needs on Saturday and the 5K and mile run/walk, Prevention Education Expo and Battle of the Belts on Sunday.

The Register Star and Chatham Courier are Media Sponsors of Sean's Run.

The money raised at Sean's Run from sponsorships, contributions and participant entry fees is invested in programs at schools and youth organizations selected through a competitive application process. Schools and youth groups had until December 1st to apply for the funding.
Gina Lombardi, First Vice President of First Niagara Bank, in announcing the grant stated, "First Niagara is proud to once again align itself with Sean's Run. We believe that this outstanding event is absolutely having a very positive impact and we are very confident that because of this effort by the entire community, lives are being saved. First Niagara is proud to be a part of such a community based effort."
Car crashes, according to the Center for Disease Control and Prevention (CDC) are the leading cause of death for teens. The statistics are alarming - in 2009, eight teens ages 16 to 19 died every day from motor vehicle injuries. The Center for Injury Research and Prevention has found that nearly 2/3 of those who perish were not using safety belts.
Per mile driven, drivers ages 16 to 19 are four times more likely than older drivers to crash (National Highway Traffic Safety Administration). Alcohol consumption greatly increases the likelihood that teens will forego use of seatbelts; nearly three out of every four teenage drivers killed in motor vehicle crashes after drinking and driving were not wearing a seat belt. (CDC)
Those awarded grants include: In Columbia County – Hudson High School, Chatham High and Middle School. In Rensselaer County – Algonquin MS,
Averill Park HS, Maple Hill High and Middle schools. In Schenectady County – Mohonasen High School. In Dutchess County – Pine Plains Stissing Mountain High School and the Dutchess County Council on Addition Prevention and Education. In Montgomery County – Lynch Literacy Academy.
In addition, $500 grants will be awarded to three regional organizations dedicated to combating underage drinking and impaired driving. These include Remove Intoxicated Drivers (RID) of Schenectady County, Choices 301 of Albany County and MADD of Albany County.
Jeff French, Chairman of Sean's Run, said "First Niagara's sponsorship makes this grant making program possible. Thanks to their generosity we can offer the funding to encourage schools and youth groups to implement the Battle of the Belts as an innovative activity to reduce the number of teens who fail to use their seatbelts."
$183,571 has been contributed by Sean's Run since 2002 to support 128 grants to school and 86 scholarships to college bound high school seniors.
Sean's Run and the grants program were established in response to the tragic death of Sean Patrick French, the 17-year old Chatham High School junior, honor roll student, community volunteer and record-setting athlete who was kiled on January 1, 2002, as a passenger in an underage drunk-driving car crash.
More information is available at the website www.SeansRun.com or by calling Jeff French at 672-4757.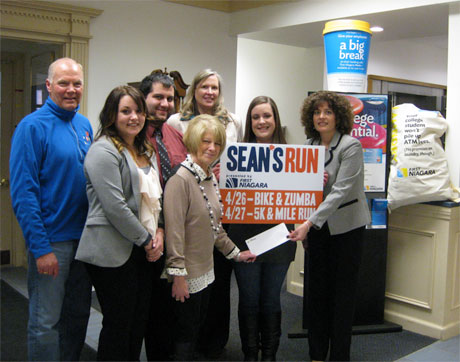 First Niagara Bank employees present sponsorship check to members of the Sean's Run Organizing Committee. Sponsorship from the bank helps underwrite grants to schools and youth groups. L- R: Mark French, Sean's Run, Courtney Stalker, Frank Torre and Betsy Braley, Beth Hover and Joanne Dolye from Sean's Run, and Gina Lombardo, First Vice President, First Niagara Bank.