Berkshire Artist/Poet Supports Sean's Run
March 28 - Berkshire watercolor artist/ poet and runner Tom Warner has again created a painting for Sean's Run. First Niagara Bank is Presenting Sponsor and the Register Star and Chatham Courier are media sponsors of Sean's Run.
The special watercolor for the tenth annual event is titled "Running With Sean". The painting will be one of two grand prizes in the Sean's Run Raffle with all the proceeds going to support grants and scholarships awarded by the event. The painting is a rendition of a household cork bulletin board displaying running items related to the artist's first few times he met Sean and his family.
Raffle tickets at $1.00 each are available at First Niagara Bank, Chatham branch.
"The painting is about the first time I met Sean at a race in Philmont that was organized by his uncle, Jeff French. Then a couple of years later we met again at the Old Chatham 5K road race. It also depicts how we remember him today through Sean's Run." Warner explains.

"I was so impressed with what a wonderful, thoughtful, kind young man Sean had grown to be. After Sean's tragic death, I just wanted to do something to help in the cause of stopping underage drinking and the tragedies that can follow. If my effort of donating has helped in this loving cause to help our youth, then I am thrilled to have helped," he adds.
Tom's work has been published on American Galley Greatest American Painters http://americangallery.wordpress.com/2010/03/06/tom-warner-1959/
This years painting is on display at First Niagara Bank in Chatham until Sean's Run on May 1st. A small limited edition of Giclee Prints of this painting "Running With Sean" can seen and purchased at www.tomwarnerwatercolors.com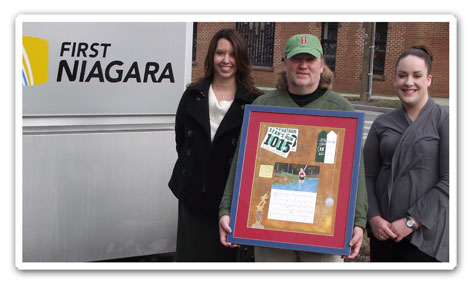 Berkshire Artist Tom Warner, center, presents a painting to members of the Sean's Run organizing committee and First Niagara Bank employees, Tammi Menegio (L) and Joanne Doyle (R).