Sean's Run: A RACE THAT CHANGES LIVES
by Julie Keating
After a tough, icy winter running season that has tested the endurance of many, runners in Columbia County and all over the Capital Region are enjoying the milder conditions in the early spring, and looking forward to the race that has become its highlight, Sean's Run in Chatham.
The 5K race will be celebrating its 10th anniversary this year on Sunday, May 1, but over the years the run has expanded into a two-day affair with multiple events. Saturday, April 30 starts with packet pickup and registration at the Chatham High School from 2-4pm, and Sea Jem's Super Saturday Run for Special Needs Kids at 3pm. The festivities begin on Sunday at 10am with a Prevention Education Expo, and include the World Championship Battle of the Seat Belts at 12 noon, Meghan's Mile youth race at 12:30pm, and the 5K Run and Community Walk at 1pm.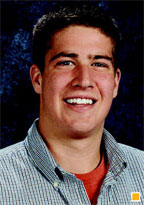 A 5K race is usually a quick and lighthearted competition, with the relatively short distance giving the runners the opportunity to go "all out" and work on their speed. But, of course, Sean's Run is much more than this. It's a time to commemorate Sean French, the young man and talented runner, who lost his life on January 1, 2002 at the age of 17 as a passenger in a drunken driving car crash. Another passenger, 17-year-old Ian Moore, suffered paralyzing injuries. Neither was using seat belts. The driver, also 17, had been arrested for drunken driving 18 days prior to the fatal crash.
Sean was involved in cross-country and track and field events in the Chatham Central School District, and he is well known for running a mile in 4:18 as a sophomore in the Section II State Meet qualifying race in 2001, unusual for such a young runner, and that time is on everyone's race bib at Sean's Run. In the midst of their grief, Sean's family, friends, and schoolmates found many opportunities for positive change. Sean's Law was enacted, requiring the immediate suspension of a license upon the arrest of a 16- or 17-year-old on drunken driving charges. In its fi rst nine years, Sean's Run has raised and given away $138,050 to support youth programs and scholarships. Youth groups from around the region use Sean's Run grants to combat underage drinking and encourage teenagers to always wear seatbelts.College scholarships have been awarded to 68 high school seniors.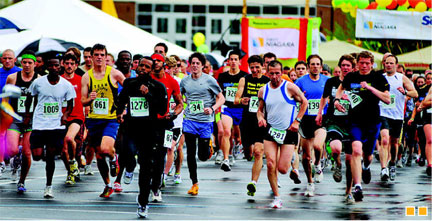 Front runners at the start of the 2010 5K.
Among all the other races that populate the calendar, Sean's Run is a must. When the merits of various races are discussed, and runners decide which races they will compete in, "We have to do Sean's Run!" is a common statement. In addition to the strong messages behind the race, the run is very fun. The course includes two turnarounds that give participants the chance to see and cheer on other runners that are in front or behind them, a hill that can take your breath away, and extensive post race refreshments.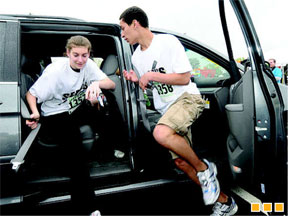 Amsterdam High School students compete in the
World Championship Battle of the Belts seatbelt buckling contest.
The race is ideal for a family with children that coulduse some education on the dangers of alcohol. Sean's Run is also an occasion for homecoming, with many of the participants that grew up in the area, but moved away in adulthood, choosing the Sean's Run weekend as the time to return. Last year, I was reunited with a high school friend, James Hogan, who now lives in Brooklyn. On New Years Day 2010 he decided to start running, with Sean's Run chosen for his first race. I have never seen James more joyful as he ran the race alongside some of his oldest and dearest friends.
Sean French's family running tradition continues. Many of Sean's family members run and walk in the race and serve on the board of directors. His cousin Matthew Forys of New York City, the Sean's Run course record holder with a time of 15:18, just qualifi ed for the marathon Olympic trials in January 2012. Matthew did this by running a 1:04:56 at the NYC Half- Marathon in March.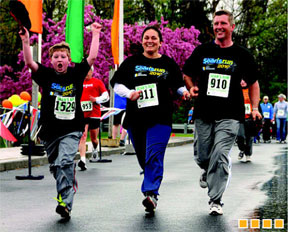 Having Fun at Sean's Run!
So many of us have had our lives affected by alcohol abuse. But it is our decision to either despair, or learn and grow from hardship and tragedy. Sean's Run is a wonderful example of how one life ended much too quickly has touched and helped improve the lives of thousands.
Julie Keating (julie.keating6@gmail.com) has been a runner for 12 years. She and her husband live in Kinderhook, and she works in finance at NYS Dept. of Labor. Julie is a member of the Kinderhook Runners Club who enjoys writing and staying in motion.