Sean's Run and First Niagara Bank Add Special Feature
March 15, 2010 - Sean's Run, the popular event presented by First Niagara Bank in Chatham each April to highlight the problems of underage drinking, impaired driving, and teens' lax use of seatbelts, is taking steps to ensure that more people have a chance to enjoy the fun and excitement.
Beginning this year, Sean's Run will add an additional foot race to an event program which already includes a 5K and Meghan's Mile youth race. These two races are anticipated to attract about 1,500 participants and will take place on Sunday, April 25. On the day before, Saturday April 24th, the organizers of Sean's Run will produce a new race specially designed for Special Needs Kids.
The new activity has been dubbed, "Sea Jem's Super Saturday Run for Special Needs Kids" in recognition of the Boston-based seafood wholesaler Sea Jem, which is sponsoring the newest component of the Sean's Run program. Sea Jem's fresh and frozen fish are sold in the Seafood Departments at all Price Chopper Supermarket stores. Now kids with special needs and developmental disabilities will have their own special event associated with Sean's Run.
The Register Star and Chatham Courier are Media Sponsors of Sean's Run.
Registration for the Super Saturday Run is free, and all participants will be provided an event T-shirt and finisher's ribbon. Registration forms are available at all First Niagara Bank branches. Participants should be at the Chatham High School parking lot in time for the 3 p.m. start on Saturday, April 24th. The races will range from 25 to 100 yards to, depending on the ability of the entrants.
In addition to the 5K and Meghan's Mile on Sunday, April 25, Sean's Run also includes a Prevention Education Expo, the World Championship Battle of the Belts seatbelt buckling competition, and a tribute to victims of drunk driving. All proceeds are given as grants to schools and youth organizations and as scholarships to deserving seniors from throughout the region. In March, the organizing committee also co-hosted a Points and Insurance Reduction Program safe driving class with Sean's Run sponsor Taconic Driving School.
Following the 2009 Sean's Run, the founder of the East Greenbush Miracle League (www.capitalregionmiracleleague.org), Burke Adams, contacted organizing committee member Mark French and indicated he was interested in working with the committee to determine how the disabled kids in his program could also be participants in Sean's Run. Adams indicated he was aware of the positive reputation of Sean's Run and wanted his kids to be able to experience the exhilaration of crossing under the Sean's Run Finish Line banner. He asked that the committee consider adding a new component to the existing program.
French said he did not think twice about taking "Burke's wonderful idea" to the entire organizing committee, which unanimously approved including the special activity beginning this April.
French has some experience in developing such opportunities for disabled people. In the early 1990s he was a cofounder of the county's first Little League program for disabled children, and in the early years of Sean's Run, he made provisions for wheelchair racers to participate. Two paraplegics who knew Sean from the starting lines of various road races in the capital region accepted French's invitation to compete in the wheelchair division. Both accomplished athletes, April Coughlin, then 20, and Marty Ryan, who perished after last year's Sean Run following a battle with cancer, participated in several Sean's Runs. Coughlin is now a school teacher in New York City and has gone on to win the Boston Marathon and participate in the World Championship Triathlon in Switzerland. French recalled how well they navigated the hills on the Sean's Run 5K course and how they inspired everyone who witnessed their determination.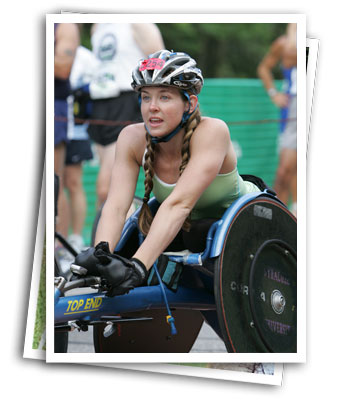 April Coughlin, past Sean's Run participant and
former Champion, Boston Marathon
But those are not the only reasons why Mark French volunteered to lead the Organizing Committee's effort to start this new feature of Sean's Run. It is because his deceased son, Sean, had demonstrated a special compassion for children with disabilities, and because Sean's buddy, Ian Moore, became a paraplegic as a result of the deadly crash that claimed Sean's life. "That's what makes the success of this new feature personally important," he explained.
Working with the volunteers of the Albany Miracle League, the Sean's Run organizing committee is planning a safe and enjoyable athletic experience for the Saturday event, which will be conducted in a way, according to French, that will give kids a feeling of belonging and accomplishment. He added, "We hope Sea Jem's Super Saturday Run for Special Needs Kids brings hope, inspiration and the joys of achievement to people with disabilities."
For more information about this or the other components of Sean's Run, contact French at MarkFrench@Fairpoint.net.