Sean's Run Again Celebrates Youth and Life
By Mike Rivest, Runner

April 13, 2010 - It has been a long, cold winter, but spring is back!
Spring is a time filled with the anticipation of wonderful things to come. For high school students it's the anticipation of upcoming proms, summer vacations, and graduations. But for us, spring means another Sean's Run is on its way!
Scheduled purposefully in the middle of prom season, Sean's Run is more than an annual event for runners and walkers - it's a reminder that a moment's bad judgment can result in tragedy. Underage drinking, impaired driving, or failure to use seatbelts can take the lives of our children.
The 9th Annual Sean's Run will take place at Chatham High School over the weekend of April 24 and 25.
On Saturday April 24th, the Sean's Run organizing committee will present the first ever Sea Jem's Super Saturday Run for Special Needs Kids and offer packet pick-up and walk up registration for participants in the 5K and Meghan's Mile which will be produced on the following day. On Sunday, April 25th, the 9th Annual 5K Run/Walk, Meghan's Mile youth race, the Battle of the Belts World Championship, the Prevention Education Expo, the Tribute to Victims and Survivors of Drunk Driving will be conducted. All the activities of Sean's Run are as annual reminders that drunk driving crashes - like the one on January 1, 2002 that claimed the life of Sean Patrick French - are preventable when communities work together.
At the time of his death, Sean was a champion runner, honor role student, and community volunteer. The crash also paralyzed his friend Ian Moore. The two juniors were passengers in a car driven by an intoxicated schoolmate. Sean and Ian were not wearing seat belts.
Thanks to your support, Sean's Run has raised $135,550 that has funded prevention programs at schools and youth organizations and rewarded outstanding high school students with scholarships.
It is only right that a footrace memorializes Sean's life. From age seven until his death at 17, Sean compiled an astounding list of running accomplishments and became one of the finest local high school athletes of his generation. As a sophomore, he placed second in the New York State Public High School cross-country championships and the following spring ran the fastest metric mile of any sophomore in the State – 4:18! That spring, at age 16, he took four firsts at both the Section II and the Patroon Conference championship track meets. That would be his final track and field season.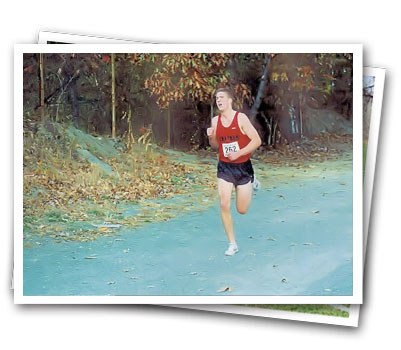 Sean Patrick French, age 17, fall 2001, cross country meet at Olana Historic Site.
More extraordinary, though, were his "non-running" attributes. A Sports Illustrated article, published three months after his death, described Sean as "selfless," "gracious," "caring," "hard-working" - a "young goodwill ambassador who led by example in Chatham, in the running community, and beyond." The article noted that, "When 3,000 people attend the funeral services of a 17-year old, it is evidence that a community has lost someone recognized as very special."
But Sean's Run is more than a remembrance of one teen's life, it is a community rising to say that losses like this are unacceptable. Sean's Run says "Never again." It is a reminder that underage drinking is no harmless rite of passage, but rather a dangerous flirtation with disaster.
Once again, First Niagara Bank has graciously stepped forward to sponsor Sean's Run by contributing $10,000 to the event. "Sean's Run, the Battle of the Belts and all the other related activities of this event are a great way to reach young people", said Thomas Amell, First Niagara Regional President. "First Niagara is the Presenting Sponsor of Sean's Run because we believe that investing in the safety of our teens makes good sense."
We look forward to seeing you on Sunday, April 26, 2010! Be one of the 1,500 runners and walkers who will come together to celebrate Spring, remember one very special young man, and say "Never again."
Bring your running shoes and your smiles!