Age: Not a Factor at Sean's Run

April 1, 2010 - Stan Card from Claverack will be 87-years-old when he toes the starting line on April 25th, 2010 at Chatham High School. Stan is the most senior contestant registered to participate in the 9th Annual Sean's Run.
Stan Card recalled how, at last year's event, he was just a few hundred yards from the finish line when he caught up to two women who had been ahead of him the whole race. As he moved along side of them he said, jokingly, that he was going to beat them.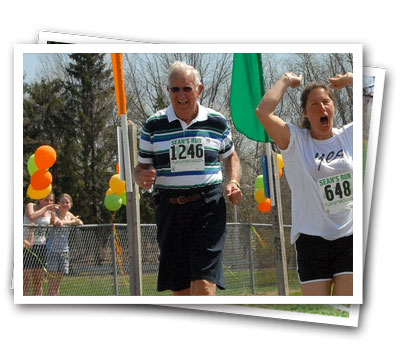 Stan Card, age 87, of Claverack, Debbie Oleynek and Shari Franks, both of Chatham, celebrating as near the finish line at the 2009 Sean's Run.

"For me," he said, "it's fun to see people who are younger than I am trying to keep up with me! Plus, out on the course I get a lot of encouragement from many of the participants as well as from spectators along the streets. "
Debbie Oleynek described their side-by-side finish: "When this nice gentleman suddenly came along side of Shari and me, we were both sweating, tired and working pretty hard just to finish in a respectable time. He said he could beat us and we asked him his age. When he said 86, I thought there is no way this 86-year-old is beating me across the finish line," she said, laughing. "So I said, 'Let's finish together.' He smiled and Shari and I had to pick up our pace to stay next to him. It was my first-ever Sean's Run."
Shari Franks is the Recreation Director for the Town of Chatham and she has served 9 years on the run/walk's Organizing Committee, helping to establish the event in 2002. "Lot's of things makes Sean's Run special, one being the fact that our Committee is made up of so many caring volunteers who all do their part to make the event a success and do it well year after year."
Shari helps organize the Prevention Education Expo that includes exhibits by various youth serving organizations providing information to help parents and teens make healthy life choices. She is also the advisor of the Chatham Middle School chapter of Students Against Destructive Decisions (SADD).
"The message we are trying to convey about the dangers of underage drinking, drunk driving and the importance of seatbelt use has stretched far beyond our community," she said. "The other club advisors who bring students to the event tell me how much Sean's Run means to them and the work they do in their own communities." Students from more than 50 schools are expected this year.
Some participants take the time to prepare for the walk or run, and to use it as a reason to begin exercising. Others just show up for the fun, no preparation. Stan Card says he stays ready year-round! "At 87 years it's about staying active. Every day I walk for an hour starting at 5:30AM." He has a simple formula to his good health that he suggests others should consider. "Keep all your habits, don't change what has worked good for you."
Debbie Oleynek has been getting ready for the 9th Annual Sean's Run since January by working out with her friends at the Spencertown Fire House. "I'm coming back because it's a great race and a fun event. It offers me a sense of achievement."
Some participants also use the event as a way to honor or remember a friend or family member. "Last year was actually my first time completing the whole 5K course," said Shari Franks. "I have walked the mile twice at Sean's Run, but never the 5K because I typically like to be helping at the finish line and cheering on the participants"
But last year, Franks said she walked the longer distance in support of Nancy Zygmon, a committee member who was stricken with cancer and perished in September.
Many participants return year after year. Stan Card keeps coming back to Sean's Run and he brings his family with him. "There are three generations of my family there," he said. "Besides me, my daughter, son-in-law and two grand daughters participate. We made this a family event. I especially enjoy the interaction with many people who you see there every year."
In talking about others in his generation who might be thinking of participating in Sean's Run, to walk the mile or the 5K, he said, "Do it. It doesn't matter what place you finish in. For me, this is not a race, but much more it is a feeling of accomplishment. Everyone who participates can feel the same thing. I'll be lined up again this year, the Lord willing."