Berkshire Artist Supports Sean's Run
March 13, 2009: Tom Warner is an artist, a poet and runner, and someone who knows an important cause when he sees it. After last years Sean's Run, he was inspired to create a special painting that he would donate to the event organizers to use as part of their fund raising efforts.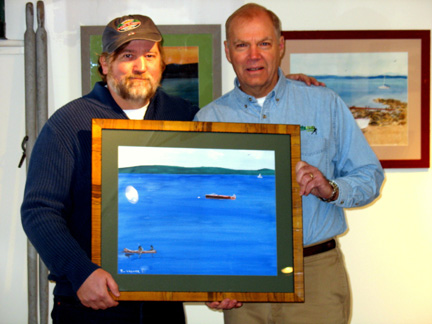 He recently presented his latest watercolor painting " A Right Way To Heaven" to the Organizing Committee which will be used as a Grand Prize in a raffle drawing. The winning ticket will be drawn at Sean's Run on April 26. The original painting will be displayed at the First Niagara Bank Chatham Branch beginning April 1st.
"I met Sean and his family when I brought my family to participate in the Old Chatham 5K several years ago. I am supporting Sean's Run because I fully recognize the relationship between poor decisions of teens and the immense pressure these young people face every day during their high school years. I pray lives are saved by our efforts. I was there at Chatham High School in 2002 with my daughter Kate when (former) Governor George Pataki signed Sean's Law. I was determined from that moment on I would always try to make a difference
and support this effort to eliminate underage and impaired driving," noted Warner when presenting the painting.
Raffle tickets are $1.00 (one dollar) each are being sold by the Organizing Committee and are available at First Niagara Bank in Chatham. Another Grand Prize, two tickets and expenses to attend a Broadway play, has been donated by Chris and Randy Hahn of Chatham. All money raised will go towards grants to schools and youth groups by Sean's Run to support programs at reducing underage drinking, impaired driving and teens' lax of use of seatbelts.
As a young man, Tom Warner met Norman Rockwell, also a Berkshire resident and the famed cover painter of the Saturday Evening Post magazine. Rockwell told the young Warner "If your going to paint a picture, have it tell a story, otherwise don't bother painting", a lesson Warner never forgot.
Warner describes his work as being influenced by Rockwell, Vermont's Grandma Moses and other artists, but in the end the style is "pure Tom Warner". Most of his works include Adirondack lakes , Berkshire scenes, and New England shorelines.
Now with a family ,including daughter Kate in college and son Dan in high school, Warner uses his works to convey stories to them and others. "When I finished 'A Right Way to Heaven', I explained to my kids that I wanted them and future generations of Warners to know the lessons I have learned through Sean's story and about the challenges of the teenage years. The painting is about Sean French, about growing up and about the grace of the God," he explained. "I hope they share that story and that knowledge always."
More about Tom Warner, as well as a look at some of his other artwork, can be seen at his website: www.TWarnerWatercolors.com