Sean's Run Attracting Diverse Field of Entrants
April 1, 2009 - It is anticipated that the size of the field for the April 26th Sean's Run in Chatham will surpass last year's numbers. Organizers are preparing for over 1,200 runners, joggers and walkers of all ages and abilities.
Feedback from participants says the growth of Sean's Run is a result of a well-produced event on a charming course. Organizers say entrants also like the amenities and nice giveaways, the shirts given to entrants, the convenience of Saturday Packet Pick-Up, the fun and exciting atmosphere, and the quick and accurate results provided at Sean's Run.
A preview of the list of those already registered shows an appeal to families, 30-somethings, baby boomers and octogenarians. Registration forms and on-line entry is available at www.SeansRun.com.
Linda Reed from Ghent has never missed a Sean's Run. She turned 50 before the 2008 event and ran her fastest time ever, 23:38, on the rolling course through the Village of Chatham to win her Age Group. She was a fitness runner in college, but dropped the routine after graduation. It was not until her sons became involved in Chatham Gold, a youth track & field program administered by the Morris Memorial, that she decided to pick up the sport again.
She's been running 4 or 5 days a week ever since, averaging 4-6 miles a run. Sean's Run is the first of 5 or 6 races she competes in each road race season. "Sean's Run becomes my motivation to work harder and improve my conditioning", she says. To her, the best parts of Sean's Run are "the total community involvement, you see so many of the same people coming back to support the event, including Chatham graduates. And the course is really nice, peaceful by the pond, music by the middle school, folks cheering on Main Street and the downhill coming back into the school is exciting."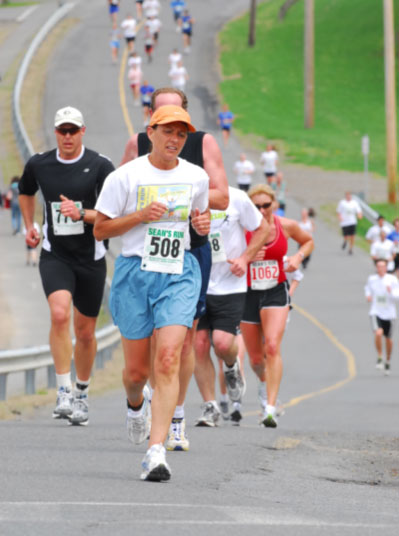 Linda Reed cruising at last year's Sean's Run
Stanford Card, at age 85 is the event's most senior entrant. He is also the patriarch of a family that thoroughly enjoys athletics. Last year he brought his daughter and son-in-law, Shanda and Gary Steenburn and grand daughters Samantha and Amara to participate with him in the 5K. Samantha Steenburn, a senior at Taconic Hills who participates in Track and Field and won three Gold Medals in Snowshoe Racing at the 2007 and 2008 Empire State Games, wrote in an e-mail to Mark French, Secretary of Sean's Run: "Participating in an athletic event, Sean's Run, that included three generations of my family is a memory I will always hold dear." She looks forward to being on the Sean's Run starting line again this year with her grand father, mom, dad and sister.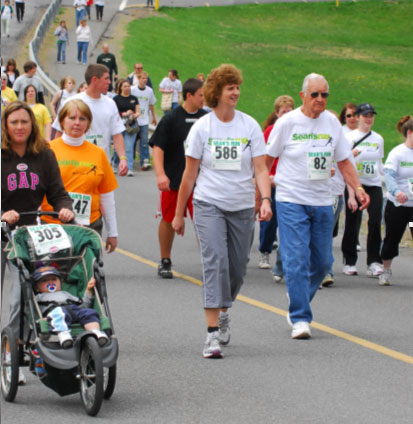 Wearing Bib Number 82 is Stanford Card, age 85,
with his daughter, Shanda Steenburn, Bib Number 586.

Jessica McGivern, 38, a Chatham native, started running "a few years ago, to manage weight and be a role model for my daughters." Last year at Sean's Run she accompanied her two daughters, Giovanna, age 3 and Nicolette, age 5 in Meghan's Mile. She also runs two other races each year, including the Freihofer's Run for Women. "Sean's Run is special because it attracts so many kids. And my girls love it. My husband recently started running and we find that participation in Sean's Run is a wonderful connection to our community.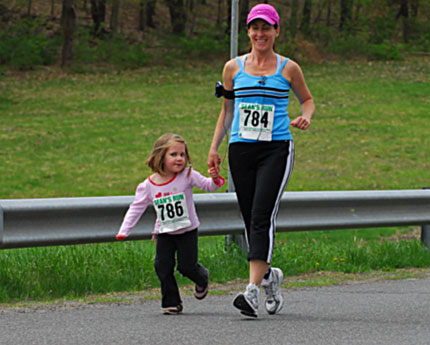 Jessica McGivern and daughter Giovanna participate in Meghan's Mile.
Also, Dave Vona, age 26, from Valatie was running in for Ichabod Crane when Sean French was on the Chatham High team. "I remember Sean. We used to talk at our high school meets and an occasional Kinderhook Fun Run. It was never much of a race between us, but I always used to give him a hard time if he failed to lap me in the 3200m. When he did lap me, I'd ask him what took so long. Sean usually got a good laugh out of that," he recalled.
These days Dave is one the top runners in the Capital area. In college he ran for RPI. Now, with twice-daily work outs and 110 – 120 miles of running a week, he is a scorer on the road racing team of the Albany Running Exchange. He usually picks one marathon for the fall and five to ten shorter races during the spring and early summer.
This will be his 5th Sean's Run and he always looks for his former teammates from Ichabod. "I really like how the whole community turns out for the race. It definitely has a different feel than your normal 5k. It's great to see so many people turning out to remember Sean and contribute to an important cause"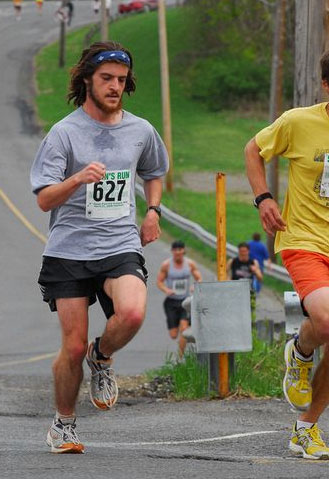 Dave Vona, 26, on the Sean's Run course
Katie McGowan, 26, a Vermont native and now a teacher at Taconic Hills, comes to Sean's Run with a group of 9-10 other teachers. Last year she took second place in her age group with a time of 24:12. This will be her third run through Chatham. "I love the energy surrounding this run. It is wonderful to see the support for this event includes many generations of runners. As a teacher it is great to see such a mix of students and educators on the course," she noted.
She is getting ready for Sean's Run by running 3-4 days a week, noting, "As the weather improves the distance that I run increases. The sunshine is a great motivator!" While always an athlete in high school and college, she did not participate in track or cross country. Given her level of training and participation in races, Katie can add "runner" to the list of titles that describes her athleticism.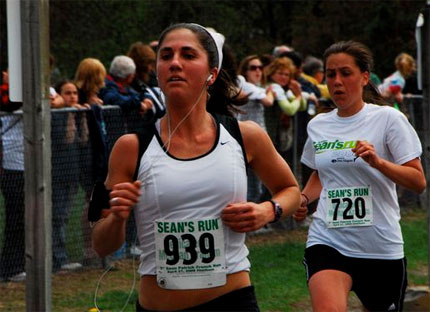 Katie McGowan, closes in on the finish line at the 2008 Sean's Run.
Jeff French, event Chairman, says the Organizing Committee is inspired by each registrant. "Each entrant has their own personal reason to participate. Some use the event as a starting point for regular exercise or as motivation to shed a few pounds. Others want to support the cause, some like the competition. But it seems like everyone likes what they feel, a special spirit, when they come to Sean's Run."