Profiles: Two Sean's Run Participants
By Jim Gilmer, Runner and Sean's Run Sponsor
April 21, 2009 - First Niagara Bank's Regional President, Tom Amell, is a business leader whose business is to be concerned about the financial well-being of our community's families, their homes and commercial endeavors. With an eye towards the Capital Region's future prosperity, he serves on the board of the Center for Economic Growth and The 50 Group, an association of executives working behind the scenes to better the region.
Leader. A Delmar native and Siena grad ('89) with a UAlbany MBA, Tom is that brand of community leader who also makes it his business to care about the social and physical well-being of his beloved Capital Region. "Sean's Run is an important event for the Bank and for the capital region in encouraging teenagers to make safe choices when they get into a car with their peers. It makes good sense for our bank to invest in a quality event like this, because we care about the youth of our region," noted Mr. Amell in discussing some of the charity work he supports in our area.
In addition to serving on the Executive Board of the Northeast Parent & Child Society, he also is the Society's Treasurer. What's more, he's on the board of several other community organizations, including the Make-A-Wish Foundation of Northeast NY and 15-Love, which promotes healthy living, education, multi-cultural relationships, and the importance of family through the sport of tennis. Tom was also the 2008 chairman of the American Heart Association's Start! Heart Walk.
Runner. An accomplished high school athlete in baseball, Tom turned to running as a way to stay fit and maintain a healthy lifestyle. Despite his busy schedule, he makes time to fit in 3-4 runs a week. He proudly claims 11 consecutive Turkey Trot finishes, whether in Buffalo, where he previously resided or, more recently, in Troy. Each Thanksgiving Tom and his father-in-law, Stan Westhoff – himself a talented senior athlete in the region – race each other at the Troy Turkey Trot for family "bragging rights." Since 2002, Tom has lowered his 5K time from 25:04 to a respectable 21:02 last year. Respectable enough, Tom says with a smile, that he was finally able to cross the finish line first!
Executive. A socially conscious business leader, Tom cares deeply about the fitness and health of his First Niagara employees. Road races and other healthful, recreational pursuits, he believes, can help achieve that goal. In March, Tom joined members of the First Niagara team in the Cystic Fibrosis Stair Climb up the Corning Tower. Promoting corporate participation in events like Sean's Run, Tom says, engages people who work together in an atmosphere of friendly competition for a good cause. He knows in turn that this camaraderie helps build relationships that value teamwork and a sense of community in the workplace.
Sponsor. This is the fourth year that First Niagara Bank has been the Presenting Sponsor of Sean's Run. Tom also supported and encouraged his company's sponsorship and participation in the GHI Workforce Team Challenge. In 2008, Team First Niagara boasted 150 members at the GHIWTC.
Tom Amell and his wife, Chris, have a son and live in Clifton Park.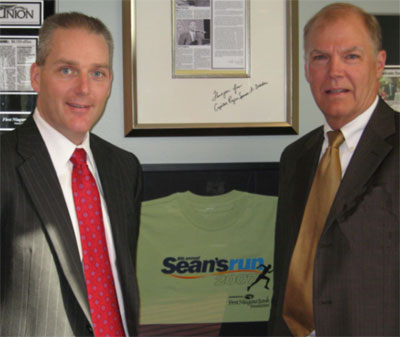 Tom Amell, President of First Niagara Bank Eastern Region (L) and
Mark French, Sean's Run Committee, (R) look over framed participant's
Shirt from 2007 Sean's Run that is displayed in Mr. Amell's office.

Marty Ryan, 47, loves three things: fatherhood, wheelchair racing and computer programming. He came to these activities after an injury from a serious fall nearly twenty-three years ago that severed his spinal cord and changed the course of his life. In 2003 and 2004, Marty participated in Sean's Run and regrets not being able to attend this year's race. However, he is joining in the spirit of the event from his home in Schenectady where he is battling cancer. Marty's message to the 2009 Sean's Run participants is, very simply, Do Not Quit!
Father. In 1998, Marty and Ann, his wife at the time, traveled to Russia to complete an adoption process. But Marty's physical impairment was a problem for the Russian adoption agency. After nearly two weeks of bureaucratic red-tape that ended favorably in a court hearing, the elated couple flew back to New York with their new ten-month old son Nikolai. Marty and Nick, who is now 11, recently returned from a family excursion to Disney World. Whenever he can, Marty enjoys playing tennis with Nick and attending his Little League practices and games.
Racer. Marty's many athletic accomplishments as a quad (quadriplegic) wheelchair racer came with a lot of ups and downs. Like many racers, the track was a gateway to the roads. After rehabbing at Sunnyview, in the late 1980s Marty would "push" his everyday wheelchair around the track at Schenectady County Community College where he was a student. As he puts it, this helped him work off the "hate" he felt over what had happened to his body. In the early 1990s at UAlbany, where he took a Bachelors degree in Mathematics, former Chatham-area resident and local elite runner Lori Hewig encouraged Marty to try road races. Soon, he began attending races with colleagues, working out regularly at the gym, and eventually acquired his own racing chair.
The success of Marty's wheelchair racing career is not measured merely in finishing times, but in finishing races — with a preference for distances from 15K to the marathon … and most with hills. He relishes the challenge of a good hill because, he says, as a wheelchair racer, you either make it over the top or it's a quick trip back to the bottom. But the downhills are also the most perilous part of a course. For wheelchair racers, like cyclists, the risk of a crash is ever present. And Marty has had his fair share.
In 2001, wheeling on a rain-slick course toward a goal of qualifying for Boston at the Mohawk Hudson River Marathon, Marty lost control on a sharp turn at the bottom of a hill just after Mile 17. After the crash, Marty urged volunteers to assist him back into his chair. With a bent rim and two broken legs, Marty persevered; powering his wobbly chariot the remaining 9 miles to a 4:20 finish for the 26.2-mile course. In the 2004 NYC Marathon, a spectator pushing a tandem baby carriage stepped out directly into Marty's path on a blind turn forcing a collision. Though having lost several minutes getting back into his chair and onto the course, he still managed a respectable 3:14 finish – and even got to the Giants game later that day.
Programmer. After graduating college, Marty took a job at Fleet Norstar Bank before accepting a state civil service position in 1992 at the Department of Correctional Services as a computer programmer. Over his five years in State service he developed an expertise in mainframe programming and became friends with several runners who supported his racing. Most recently, he worked for Keane Consulting before having to leave his job in 2006 for health reasons.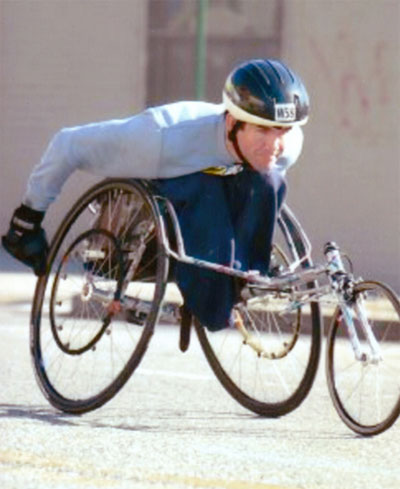 Marty Ryan competed at Sean's Run in 2003 and 2004