Diverse Field Entered Already
By Sean Cummings, Runner
April 13, 2008 — If the six-year growth trend continues, the total number of entrants participating in the 7th Annual Sean's Run, on Sunday, April 27th at Chatham High School, will surpass last year's count. A sampling of those already registered shows that the event appeals to families, walkers, 20-somethings, as well as baby boomers and their parents. Event organizers anticipate over 850 entrants of all ages will register to participate this year, making this the largest run/walk event produced in the area. Registration forms and on-line entry is available here.
Some of those already registered include Steve and Suzanne Wightman of Chatham and their children who have never missed a Sean Patrick French Memorial Run/Walk. The couple has been competing in endurance sports for 25 years and they now coach the girls' varsity track team at Chatham High School.
Their children, Ross (12) and Leah (17), have raced for fun since age 6. Ross won his very first race at the Kids Mile of the Old Chatham 5K, a running event that Sean's dad, Mark French, originated. Ross is the current record holder of SeansMile, the youth race that is conducted prior to the Sean's Run 5K. Leah, a junior at Chatham High, is currently state and nationally-ranked at several middle distances in indoor track.
"Ross shares Sean's birthday (September 21), so we have always felt a special bond through that and by sharing Sean's passion for racing," his mom indicated. "The Frenchs are special people who have shown great leadership in this community. We feel privileged to be a part of an event like Sean's Run."
Families who participate in Sean's Run get a break on the entry fee. A review of the registrants list from the 2007 event, posted at the Sean's Run website, evidences that many families took advantage of this incentive.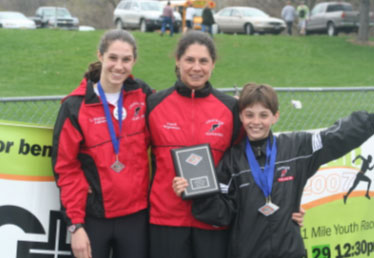 The Wightmans – Leah, mom Suzanne, and Sean's Mile Course record holder, Ross, proudly display their winnings after the 2007 Sean's Run.

Rosa Pfeil, age 63, is a walker from Hudson. Her first experience in an organized run/walk event was the inaugural Sean's Run in 2002. She enters just one event each year and looks forward to her annual stroll through the Village of Chatham. "I wouldn't miss it, it's fun every year, even when it pours. I've met friends who I see there each year and we talk the whole time we are walking to get caught up on what we've all been doing over the past year."
Joanna Ezinga, age 56 from Canaan, began running almost 25 years ago, after the birth of her second child. A friend suggested to Joanna to run together in the annual Pittsfield Mother's Day run. That first competition led to many more races and eventually inspired Joanna to pursue a career as a certified personal trainer and triathlon coach.
"Last year was my first time running Sean's Run and I was immediately aware that this was not your typical race," Ezinga said. "Rather, it was a living memorial, created by family and friends, to honor the spirit of a beloved young man. I have run many races over the years, but this one truly touched my heart."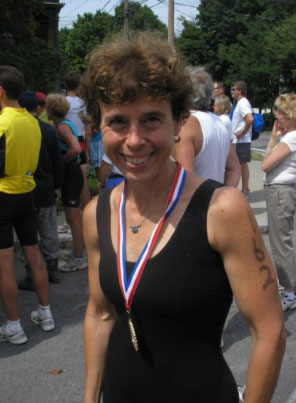 Joanna Ezinga, following a Triathalon last season.
Caleb White, age 25 from Philmont, participated in varsity cross country and volleyball in high school and college. Caleb now serves as a cross-country and volleyball coach at his high school alma mater, Hawthorne Valley School, and is the school's athletic director.
"I remember Sean from cross country season in 2001 – he was a junior and I was a senior," Caleb recounted. "From talking to him, you would never have known that he
was a star. He was very humble in his success, and I remember many races when he could have won, yet he allowed his teammates to share the glory with him. Though I was older than him I looked up to him, and I learned from him some lessons about how to be a better teammate."
Nelson Charron, age 82 from Chatham, and Anna Young, age 77 from East Chatham, are the most senior man and woman pre-registered for the 2008 event. Both have signed up for the 5K (3.1 miles) and have participated in previous Sean's Runs.
Jonathan Mueller, age 28 from Albany, is a survivor of a drunk driving crash. His vehicle was hit head-on by a car driven by an intoxicated driver and he suffered life altering brain injuries. A former college Cross Country runner, he now has difficulty walking, but he comes each year to Sean's Run. With great determination and some assistance he always completes the 3.1 miles.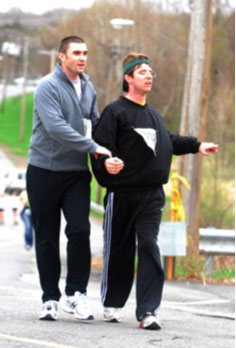 Jonathan Mueller finishes the 5K with the assistance of a staff member
of Living Resources, Inc, an organization that provides services to
people who have suffered brain injuries.
Jeff French, event Chairman, says the Organizing Committee is inspired by each registrant. "Each entrant has their own personal reason to participate. Some use the event as a starting point for regular exercise or as motivation to shed a few pounds. Others want to support our cause, some like the competition. But it seems like everyone likes what they feel, a special spirit, when they come to Sean's Run."