Chatham Supervisor and Sean's Run Honor Police and Sponsors
Hudson, November 8, 2006 - At tonight's Columbia County Board of Supervisors Meeting, Chatham Town Supervisor Jesse DeGroodt joined the organizers of Sean's Run in paying tribute to five individuals for their role in helping commence an innovative program in Columbia County and across the capital district to increase teens' use of seatbelts. According to the National Highway Traffic Safety Administration, car crashes are the number one cause of teenage fatalities and nearly 2/3 of those killed were not wearing seatbelts.
"Unfortunately, for us in Chatham and throughout Columbia County, these numbers represent more than a startling statistic. We know teens who comprise the data, like Sean French who was killed, and his buddy Ian Moore who is now paralyzed, both were riding unbuckled in a car crashed by an intoxicated schoolmate in Chatham on January 1, 2002." said Mr. DeGroodt. "The Battle of the Belts is a wonderful collaboration of law enforcement officials, a county agency, generous corporate sponsors and an energetic committee of volunteers, all working to keep kids safe."
Last winter the Sean's Run committee designed and began promoting the Battle of the Belts seatbelt buckling contest as a fun way to encourage teens to always use seatbelts. The Committee traveled across the region to introduce the event to schools and youth organizations by meeting with SADD advisors, youth bureaus, STOP DWI coordinators, police agencies and substance abuse service providers in 10-counties. Last April, twenty five schools and youth organizations registered teams to compete in the World Championship Battle of the Belts, one of the activities of Sean's Run produced at Chatham High School .
The Sean's Run organizers now hope the event will become an annual activity for schools and youth groups across the state and recently produced and distributed a "how-to" DVD and written guidelines to assist groups plan and implement a Battle of the Belts.
Mr. DeGroodt and the Committee presented awards to Sheriff David Harrison, NYS Police Captain Robin Benziger and STOP DWI Coordinator Jessica Nabozny in recognition of their work last spring in encouraging local schools and youth organizations to implement the Battle of the Belts project. Chatham and Hudson Police Departments helped introduce the project within their respective school districts.
Also recognized were Carl Florio, President of First Niagara Bank's Eastern Division. The Bank's Foundation is the Presenting Sponsor of Sean's Run. Gary Pollard, VP at the Bank accepted on behalf of Mr. Florio. In addition, Andrew James, General Manager of Rensselaer Honda was honored. Rensselaer Honda is the corporate sponsor of the Battle of the Belts.
The Battle involves a competition between teams comprised of four teenagers. At the start signal, a team runs to a car from a starting line 25 feet from the rear bumper. All jump in and quickly buckle up. When all four team members are buckled, an official, usually a Police Officer, tells the team to "rotate". They unbuckle, jump out and run clockwise around the car to the next seat and buckle up again. The process is repeated until all four team members have been buckled four times when time is taken. The fastest teams are invited to Sean's Run to participate in the World Championship.
The sixth annual Sean's Run, and the second annual World Championship Battle of the Belts is slated for April 29th at Chatham High School. More information is available by contacting Jeff French, general chairmen, at 672-4757 or visiting www.SeansRun.com.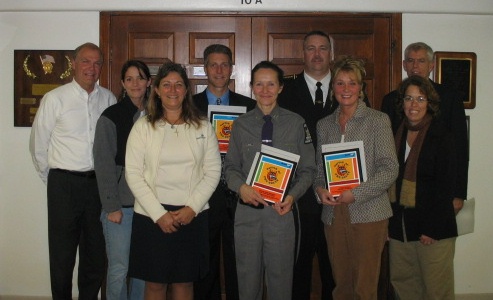 Sean's Run Committee makes presentation at Columbia County Board of Supervisors Meeting, November 8, 2007.
L-R: Mark French, Jill VanAlstyne, Carol Goold, Gary Pollard,
VP First Niagara Bank, Captain Robin Benziger, NYS Police, Sheriff David Harrison, Columbia County Sheriff's Department, Jessica Nabozny, Columbia County STOP DWI Coordinator, Shari Franks and Jeff French