Rensselaer Honda Honored for helping save Teens' Lives
Troy, December 6, 2006 - Rensselaer Honda, located at 770 Hoosick Road in Troy, was recently honored for its work in helping commence an innovative program – the Battle of the Belts – at schools and youth organizations across the capital district to increase teens' use of seatbelts. According to the National Highway Traffic Safety Administration, car crashes are the number one cause of teenage fatalities and nearly 2/3 of those killed were not wearing seatbelts.
"Unfortunately, these numbers represent more than a startling statistic, they are comprised of young people with names, like 17-year old Sean French who was killed, and his buddy Ian Moore who is now paralyzed," said Andrew James, General Manager of the Honda dealership. Both teens were riding unbuckled in a car crashed by an intoxicated schoolmate in Chatham, Columbia County, on January 1, 2002. In November the Columbia County Board of Supervisors presented Rensselaer Honda with a citation in recognition of their sponsorship.
"We want to do something to change teens' behaviors, that's why Rensselaer Honda joined with the organizers of Sean's Run to sponsor the Battle of the Belts. We're part of a wonderful collaboration of law enforcement officials, government agencies, schools, youth groups and an energetic committee of volunteers, all working to keep kids safe."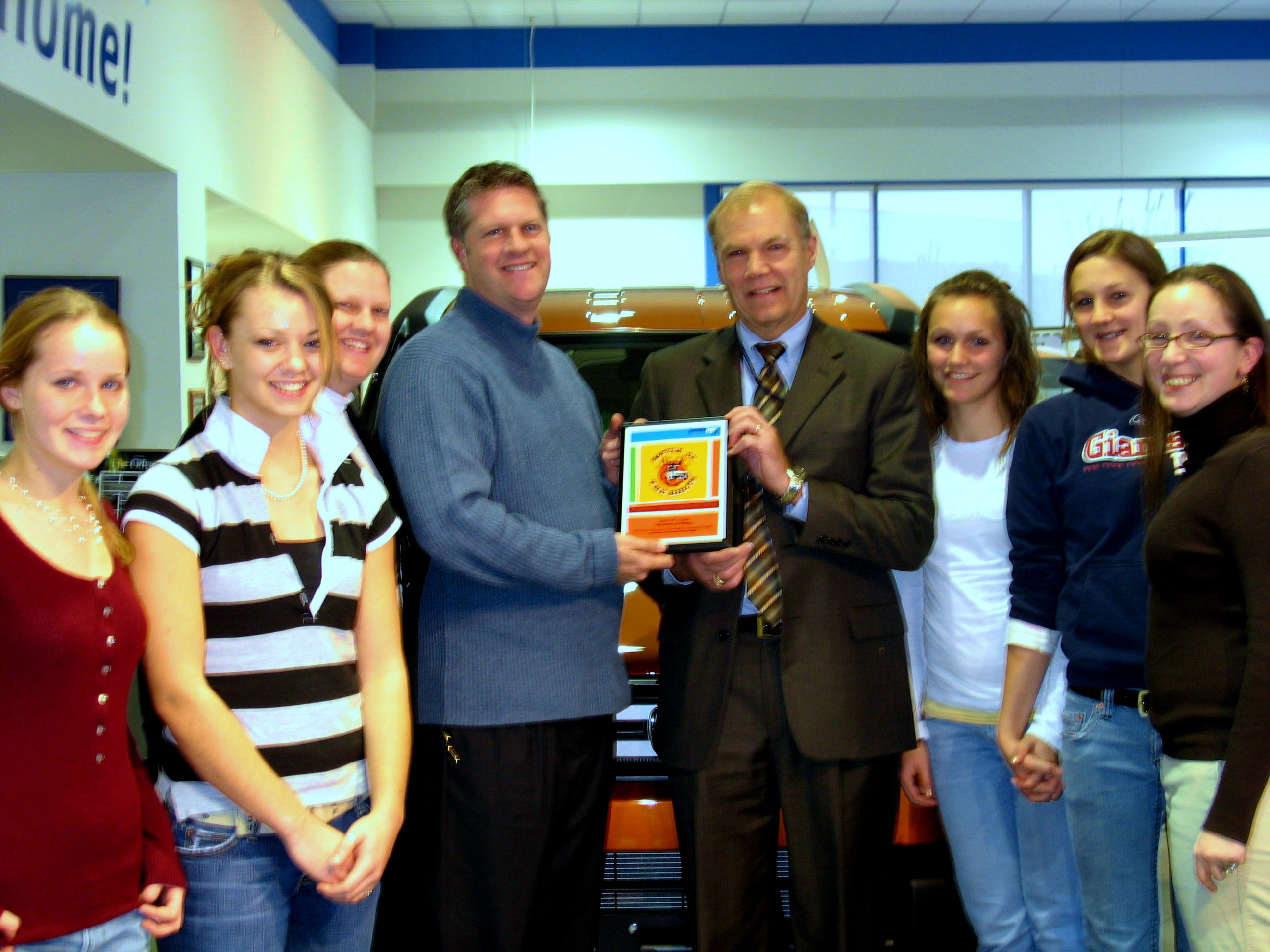 Members of the World Champion Team, The Little Walnuts from Berne-Knox Westerlo SADD join Mark French of Sean's Run in making a presentation to Andrew James of Rensselaer Honda, sponsor of the Battle of the Belts. L-R: Danielle Willsey, Alisha VanDyke, Tara Cummings, SADD Advisor, Andrew James, Mark French, Ada Lauderbach, Lauren Ford and Shannon James, SADD Advisor.
Sean's Run, produced in Chatham, is a community event designed to increase awareness about the dangers of underage drinking, impaired driving and teens' lax use of seatbelt. The event has attracted over 4,000 participants in the last five years from throughout the northeast and includes a 5K and one mile race, a Tribute to Victims and Survivors of Drunk Driving, a Prevention Education Expo and the World Championship Battle of the Belts sponsored by Rensselaer Honda. All proceeds are given as grants to schools to implement programs that increase seatbelt use and decrease underage drinking and impaired driving.
Last winter Rensselaer Honda and the organizers of Sean's Run designed and began promoting the Battle of the Belts seatbelt buckling contest as a fun way to encourage teens to always use seatbelts. The Committee traveled across the region to introduce the event to schools and youth organizations by meeting with SADD advisors, youth bureaus, STOP DWI coordinators, police agencies and substance abuse service providers in 10-counties. Last April, twenty five schools and youth organizations registered teams to compete in the World Championship Battle of the Belts including Berlin and Hoosic Falls high schools from Rensselaer County.
The Sean's Run organizers now hope the event will become an annual activity for schools and youth groups across the state. Using funding provided by Rensselaer Honda they recently produced and distributed a "how-to" DVD and written guidelines to assist schools and youth groups plan and implement a Battle of the Belts.
The Battle is a competition between teams comprised of four teenagers. At the start signal, a team runs to a car from a starting line 25 feet from the rear bumper. All jump in and quickly buckle up. When all four team members are buckled, an official, usually a Police Officer, tells the team to "rotate". They unbuckle, jump out and run clockwise around the car to the next seat and buckle up again. The process is repeated until all four team members have been buckled four times when time is taken. The fastest teams are invited to Sean's Run to participate in the World Championship.
The 2006 World Champions are from the SADD (Students Against Destructive Decisions) Chapter at Berne-Knox Westerlo High School, Albany County. Like several other SADD advisors around the region, SADD Advisor Shannon Foley organized a preliminary Battle of the Belts at her high school to determine which group of students would represent their school at the World Championship. The fastest team, a group of four girls, now all seniors, won the local event and traveled to Chatham to compete and went on to win the World Championship title. The team is comprised of Lauren Ford, Ada Lauderbach, Alisha VanDyke and Danielle Willsey.
"We had fun planning and producing our own Battle at B-KW high school; the kids really got into it and formed teams," said Lauren Ford. "Some of the junior boys thought they could do it fastest, but we won and got to go to the World Championship. We practiced more, had fun at Sean's Run and in the end brought home the World Championship award!"
The sixth annual Sean's Run, and the second annual World Championship Battle of the Belts is slated for April 29th at Chatham High School. More information is available by contacting Jeff French, general chairmen, at 672-4757 or visiting www.SeansRun.com.