Our 2020 Sponsors
---

Contributions added to entry fees by participants and other donations are used to support our grants to youth groups and schools to combat underage drinking, impaired driving and teens' lax use of seat belts. In 2020 we awarded $7,150 to implement programs in 12 schools and youth groups and $4,800 in scholarships to 3 deserving seniors from the region. Since 2002 we have awarded $260,045.

Click here to see our list of 2019 contributors
---
19th Annual Sean's Run Celebrates Youth and Life
May 2 & 3, 2020 – Chatham, NY
It's a 5K race, bike ride and more in a small town but with a big time festive feel and immense community support.
It's a party with a big heart.
Amenities
Exceptional food court both days - Festive party-like atmosphere – Outstanding souvenir long sleeve t-shirts – Bike Rides are scenic, well-marked routes – USATF-certified 5K course with music and at start/finish – Unique medals to 5K award winners - Helpful volunteers and excellent event management
New First-Time Features
$3,600 in 5K Prize Money
First Male and Female — $250,
Plus $250 bonus for course record
2nd and 3rd Overall Male and Female — $150 & $100, Plus $75 bonus for an age group record
Age Group Winner Male and Female — $75,
Plus $75 bonus for an age group record
Teams Win $150 for Dinner
Form a Team of 5 or more in 5K to compete for $150 restaurant gift certificates in each of four categories: Family Teams, Runners Teams, Corporate Teams, Firefighter Teams. Plus, award to the largest team across all Team categories.
Run for Free
Refer 5 friends and have your entire entry fee refunded!
Read more about Sean's Run Weekend >>
---
2020 Information Sheet
All imporant event info in one document.
Download here >>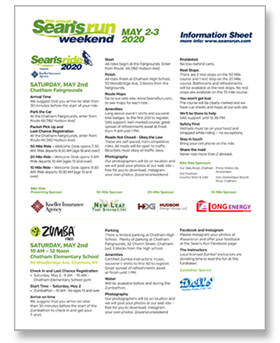 ---
---
See comments from
our Facebook page >>
---
We are proudly affiliated with the following organizations: