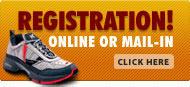 ---
2014 Event Program
Participant's Guide to our Event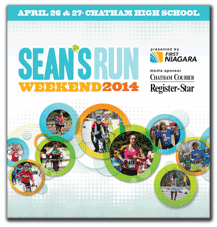 Information about all the
activities of Sean's Run


Click Here


Click to visit our 2014 sponsors and learn about sponsorship
---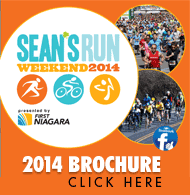 ---


Contributions that were added to entry fees by participants and donations from others were used to support our grants totaling $8,500 to youth groups & schools to combat underage drinking, impaired driving and teens' lax use of seat belts. Plus this year we awarded scholarships totaling $4,000 to 6 deserving seniors from the region. That's $12,500 given away in 2012 thanks to the generosity of many.

Click here to see our list of 2012 contributors
Sean's Run Weekend
April 26 & 27, 2014 Chatham, NY
You Decide:
One Day/One Event, or Two Days/Two Events.
Your decision for Saturday, April 26th: Ride in our 20- or 50-Mile Bike Ride or, join in our third Zumbathon®.
Your decision for Sunday, April 27th: Run or walk in our 13th annual 5K Run or in Meghan's Mile Youth Race/Community Walk.
Our decision for the weekend: To give shirts to each of the first 1,400 who enter the runs/walks. PLUS the first 250 cyclists that register for the Bike Rides will get a special Bike Ride Shirt, and the first 100 that register for the Zumbathon will get a special Zumba t-shirt.
Decide and register before April 15th – after that the registration fee goes up.
Sean's Run – all good decisions!
---

Comments from our
Facebook page:
Carmen B - This Event was completely Wonderful (:
Tom W - Another wonderful Sean's Run with a great turn out!
Sean T - Sean's Run is easily one of the best 5K races in the greater Capital Region. And let's hear it for the Chobani yogurt at the finish! Best refreshments of any local running event!
Heather C - That was the most fun I've had at a race so far. So glad I was able to get there to be amongst this celebration. Thank you so much! :)
Sandy K - My whole family did Sean's Run this year! The three youngest did the Meghan's Mile, they were very excited! Can't wait until next years!
Ralph S -To all involved with Sean's Run - thank you for recognizing our son Robert, a person with special needs, at the awards ceremony for his achievement in the 5K. When we got back in the car, he was thrilled with joy!
Linnea V - Sean's Run is a party with a heart. Hats off to the organizers and all the volunteers.

See more comments here
---
2014 Event T-Shirts!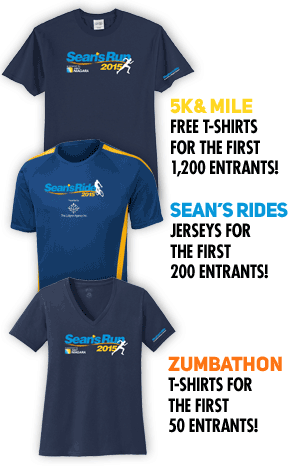 ---
---
---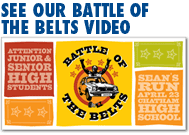 ---
2013 Annual Report
Learn about our growing event!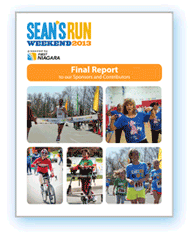 1,618 entrants felt the spirit!
Most Sponsors ever!


Click here to view PDF