Click to visit our 2016 sponsors and learn about sponsorship
---


Contributions that were added to entry fees by participants and donations from others were used to support our grants totaling $9,134 to youth groups & schools to combat underage drinking, impaired driving and teens' lax use of seat belts. Plus this year we awarded scholarships totaling $4,000 to 3 deserving seniors from the region. That's $14,134 given away in 2016 thanks to the generosity of many. Since 2002 we have awarded $208,640

Click here to see our list of 2016 contributors
---
2016 Event Program
Participant's Guide to the event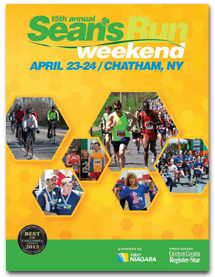 Information about all the
activities of Sean's Run


Click Here
---
Take a look at our
2016 EVENT BROCHURE!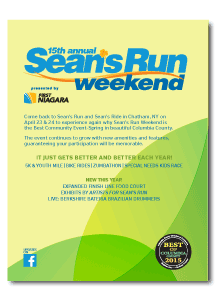 15th Annual
Sean's Run Weekend
April 23 &24, 2016
Chatham, New York
Recap: Our 15th running offered everything expected of a highly regarded and exceptionally well-produced community event. Participants and sponsors alike have spoken, and voted Sean's Run Weekend as "Best Community Event-Spring" in Columbia County.
Simply put, the 15th Annual Sean's Run Weekend was our best event ever.
The Weekend was dedicated to the memory of Christopher Stewart, the 17-year old Shenendehowa High School football team captain who was killed on December 1, 2012 when a drunk driver crashed into Christopher's car.
Our flagship activity — Sean's Run 5K and Meghan's Mile — attracted 1,550 registrants, the largest field since the event's inception in 2002.
In the Men's 5K 80-and-Over age group, the old course record set by Richard Eckardt's, 81, Albany, NY was shattered by Wade Stockman, 81, Rensselaer, NY in a time of 31:01. In addition two other runners bested the former record, including Charles Blanchard, 82, East Chatham, NY (34:04) and Dick Green, 81, East Chatham, NY (36:19).
First-time 5K winners, Ross Wightman and Hayley Madsen, dedicated their wins to Ross's sister Leah Wightman, a perennial Sean's Run participant who was diagnosed with Acute Myeloid Leukemia (AML) in early March and awaits a Bone Marrow Transplant.
A new feature of the 5K, the Firefighters' Challenge, drew volunteer firefighters from across the county who ran in their firefighting protective gear — a demonstration of their commitment and dedication to protecting their communities.
Katie Everett, 12, claimed her third consecutive Meghan's Mile Champion title and Graham Richard, 11, won the boys mile race.
Prior to the start of the 5K Run/Walk, the hotly-contested and rollicking World Championship Battle of the Belts included a field of 19 teams representing schools from across the region. When the Battle was over, Mohonasen High School, Schenectady County, retained their title as World Champions for the fourth consecutive year, having now won the title 5 times in 11 annual contests.
Sunday's agenda included the Prevention Education Expo and the introduction of the Sean's Run Scholarship Winners and the recipients of Sean's Run Grants to schools and youth groups. Thanks to the generosity of our sponsors and participants, we have given over $208,000 to support these two areas of interest over the past 14 years.
Congressman Chris Gibson (19th CD) from Kinderhook, presented a framed copy of the Congressional Record from April 14, 2016 when the Congressman made a presentation on the floor of the U.S. House of Representatives honoring the life of Sean Patrick French and the good works of Sean's Run Weekend. The Congressman has never missed participating in the 5K since his election 6 years ago.
Three new elements of the weekend – entertainment by the Berkshire Bateria Brazilian Drum group, an interactive exhibit by Artists for Sean's Run and an expanded Finish Line Food Court offering a variety of samples from local restaurants and caterers were well received.
On Saturday over 200 bicyclists, offered a choice of either a 50-, 20- and 10-mile route, enjoyed nice riding conditions and fun rest stops and a refreshments tent at the finish line. Though not a race, it is notable that the first cyclist to complete the 50-mile route finished in 2:29, averaging a very respectable 20 mpg on the roads that were all open to traffic.
The Sean's Run Zumbathon attracted over 50 of the area's most dedicated "fitness fanatics" in the two-hour, non-stop dance party.
Kids of all ages with physical and intellectual disabilities enjoyed the Super Saturday Run for Special Needs Kids.
THANK YOU! To all of our 2016 participants, volunteers, and sponsors.
Plan now to be part of our 16th annual event – April 29 & 30, 2017.
---
2016 Event T-Shirts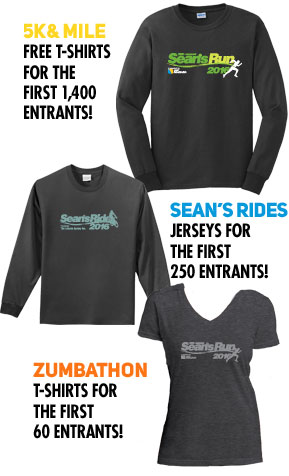 Voted Best Community Event two years in a row!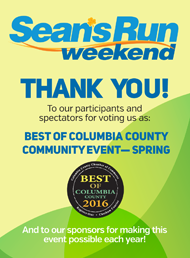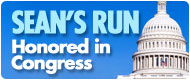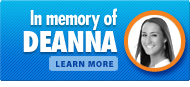 ---
---


See comments from our Facebook page >>
---
2016 Information Sheet
All event information in one
handy, single sheet.


Click Here
---